Drink More Water Challenge! 5 Tips To Help You Stay Hydrated
We've all heard it before… Make sure you're drinking 8 cups of water a day!
Sounds simple right? And maybe it is for some people. But if you're like me, for whatever reason, it's a constant battle.
I challenged myself to 6 weeks of drinking 10 cups of water a day. I wasn't perfect, but I was close! And it was a life changing experiment. My mind & body have never felt better!
I chose 10, instead the 8 cups, because I do exercise and also because I live in Florida and it's just a tad hot here!
In this experiment, I also avoided as much change as I possibly could with any of my other variables of my lifestyle habits (like exercise, diet, & sleep).
On this journey, I figured out 5 things that were particularly helpful at keeping me on track everyday. And I want to share them with you.
I challenge you to try it. Even if it's less than 6 weeks. I promise you'll be glad you did!
I was determined to figure this out. I was never awful at drinking water, I would say I was pretty mediocre. But I constantly struggled with feeling both tired and really bloated throughout each day. And I thought it might be linked to my hydration levels.
Our body NEEDS water. A lot of it. And if you're struggling with fatigue, bloating, weight gain, digestion problems, etc, I bet you simply drinking more water will help a lot, if not solve it completely.
Did Drinking Water Solve Your Problems?
Yes, yes it did.
It made me significantly less bloated. So it helped to speed up my metabolism. I also noticed an obvious change in my energy levels, which therefore lead to an increase in my productivity during the day. I've also noticed, and a lot of you guys on social media have too, that my skin is looking better because it's more hydrated. So that's a nice little bonus!
Okay, enough of the small talk. Here are the five tips that helped me drink more water everyday
Tip #1 - Start & End Your Day With Water
Drink a nice big cup of water as soon as you wake up, and right before you go to sleep at night. It was surprisingly easy to maintain this, because forming habits are all about association. And I associated that cup of water with either waking up or going to sleep. So it became a habit really quickly. I also like to add lemon to mine in the mornings.
I also like to add lemon to my water in the mornings because I like the taste, plus it helps with digestion!
Tip #2 - Use A Water Tracker Bottle
Staying hydrated while you're at home is one thing, but when you're out on the go is a WHOLE different struggle and where I think a lot of us really struggle.
Drinking single-use water bottles all day is horrible for your wallet and even worse for the environment. Read more tips on living more sustainably here
So my solution is to carry around a pre-filled water bottle with time labels.
They have hourly markers right on the bottle so you can easily remember to keep up with your water intake. Fill it up before you leave the house, and then maybe once again in the middle of the day, and that's it! Then just keep up with drinking to the time labels right on the bottle and it keeps you on track.
Some great options for cute water tracker bottles are here and here and here
Tip #3 - Set A Water Alarm
The third tip that I found really helpful was to set a water alarm!
I use Alexa on my echo dot when I'm home, and the timer on my iPhone when I'm out.
When I'm home, I set up hourly reminders for Alexa so she literally says to me "Drink Water!". And I have a rule that when it goes off, I get up from my desk, and I take a 5 min break to walk around the house or go outside for some fresh air, and drink a full glass of water, or I finish my water tracker bottle to next hour mark.
When I'm out, I'll set hourly reminders in my timer app to remind me to keep up with drinking enough water. I will literally chug a full 8-12oz of water when it goes off. Gotta do what you gotta do!
This is probably my #1 recommendation for you. It's really helped me.
Tip #4 - Infuse Your Water With Fruit/Herbs
If you don't like the taste of just water, this one's for you!
Simply chop up whatever you want and throw it in your bottle for the day. Every time you refill your bottle, the fruit will flavor it!
Experiment with different combinations & find what you like! For me, my favorites are strawberry & mint, and simply lemon and lime.
You can throw fruit and herbs in any water bottle, but having one with a filter is nice to avoid bits coming out when you drink. I really like this one and this one.
Tip #5 - Make Your Water Hot!
Not all your water has to be cold! Or even room temperature.
These last few weeks I've been really enjoying having 2 or even 3 cups of tea a day, too!
If I want a little caffeine, my favorites are green, matcha or chai. And if I don't want caffeine, I love all sorts of fruity teas like cranberry and citrus-y blends.
Also, simple hot water with a big squeeze of lemon is surprisingly delicious.
And there you have it! My top 5 tips to help you drink more water everyday. I hope you found them helpful.
If you're starting a challenge like me, send me an email or DM on Instagram, I'd love to help hold you accountable on your journey and check in with you along the way!!
Do you have any tips that help you drink more water? Please let me know in the comments below!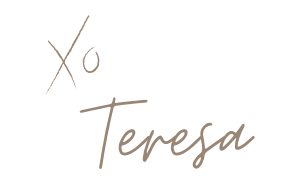 PS- this post is not sponsored and all opinions are my own (as always!)
Thank you for taking the time to read my little space on the internet. I'm a digital creator, blogger & environmental advocate.